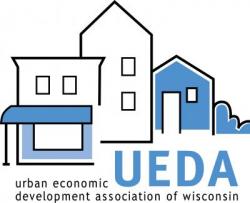 UEDA Community News - April 2016
This newsletter is sent to current members each month and features links to articles, upcoming events and activities of interest. We hope you find this membership service informative and useful!
If you have articles, announcements or a suggestion for a future newsletter, contact jessica@uedawi.org.
Welcome to these New & Returning Members!
Chase Bank and City of Milwaukee Department of City Development

UEDA Office Move
Last week UEDA moved its offices to a suite located in the YWCA Southeast Wisconsin building, located at 1915 N. Dr. Martin Luther King Jr. Drive. Our phone number should stay the same, but look for a formal announcement in the coming weeks with all the details. We are excited to be sharing space with longtime Member and partner, the YWCA!
---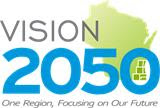 Join us for a VISION 2050 Open House
Tuesday, May 3 | 3pm to 5pm | YWCA

Please join us for the fifth VISION 2050 public input workshop and get a first look at the Southeastern Regional Planning Commission's regional transit and land-use draft plan.

REGISTER HERE >>

Since 2013, UEDA has partnered with SEWRPC to host public workshops, inviting the community to provide their feedback on land use and transportation plans for Southeast Wisconsin. Kristi Luzar, UEDA Executive Director recently spoke to the Milwaukee Business Journal about what these outreach sessions have revealed over the past few years.

This is one of your final opportunities to weigh-in and share your vision for the future our region! The workshop will use an interactive, open house format, so you are welcome to arrive at any time during the two-hour session. Expect to:
Hear a brief overview on the information, data and feedback that was used in compiling the draft plan

Visit discussion stations that will provide you with the opportunity to learn about different aspects of the plan more in-depth

Share your opinion on the factors you believe should be considered when establishing the final plan
Your input is important! Feedback gathered will help SEWRPC establish a comprehensive final plan.
---
Carnival Milwaukee Partner Feature
Each month we feature restaurants, caterers or vendors who participated in this year's Carnival Milwaukee Food Tasting. They are locally owned and operated businesses that contribute to the local economy and vitality of our community. We encourage you to patronize and support them!
Cakes by Linda Kay
Phone: 414-202-8876 * cakesbylindakay@gmail.com
On Facebook: Cakes-by-Linda-Kay
We provide Cakes, Pies, Cobblers and Cookies and other items! We also do Weddings, Showers, Birthdays and other events. Give us a call and place an order – you will be glad you did!

Casa Noble Authentic Mexican Restaurant & Bar
3710 W. Lincoln Ave, Milwaukee, 53215 Phone: 414 383-4666
On Facebook: Casa-Noble-Mexican-Restaurant-Bar
Casa Noble Authentic Mexican Restaurant & Bar features affordable classic Mexican dishes and a welcoming family atmosphere. We have an extended variety of dishes from our Mexican gastronomy made with the finest ingredients. We also offer a 'mixing it up menu' from Fettuccini Alfredo to Ribeye Steak. Casa Noble offers a banquet hall that holds up to 60 people with premier catering service. Turning into a lounge Friday and Saturday, Casa Noble offers dancing, karaoke and of course our signature drinks.
---
UEDA Member Milestones

Congrats to Paula Penebaker, President & CEO of YWCA Southeast Wisconsin for being named 2016 Woman Executive of the Year by BizTimes Media! Paula will be honored on May 18 at the BizExpo. Register here >>

Catalytic retail center slated for Harambee neighborhood: Backed by Riverworks Development Corporation, this new city center will rehab dilapidated buildings at East Concordia Avenue, bringing new businesses, jobs and services to a long-blighted commercial stretch on the city's north side. Read more >>

Menomonee Valley featured in national Landscape Architecture magazine - check out pages 120-135 for the story. Kudos to Menomonee Valley Partners for their leadership! View here >>

Near West Side Partners, Inc. has announced Near West Side Economic Development "Challenge Fund" – a $5 million, 3-year initiative that will create new opportunities for investment in economic development efforts in the Near West Side. Read more >>
HUD Fair Housing Rules updated and now in effect
The Department of Housing and Urban Development is making it easier for people with criminal records to find housing. In new guidance, released Monday, HUD tells landlords and home sellers that turning down tenants or buyers based on their criminal records may violate the Fair Housing Act. Learn more >>

Practitioner? Check out this HUD webinar, which provides an overview of the

overview of the Assessment of Fair Housing (AFH) including key concepts.

Great news for our neighborhood, Bronzeville!




Current south side staple, Pete's Fruit Market, announced that they will be opening a new location in Bronzeville, at Dr. Martin Luther King Jr. Drive and North Avenue.

Read more >>



And, in partnership with North Shore Bank, the Historic King Drive BID announced a new $50,000 revolving loan fund that will authorize small business loans between $1,000 and $10,000 to businesses looking to launch or grow within the district. Read more >>

Owners of That Salsa Lady aim to launch active urban farm
'That Ranch' is located on a 3-lot city plot that doubles as the residence of TSL co-owner, Angela Morange. A new GoFundMe campaign will help them expand their current business efforts but also convert approximately 40% of their 3-lot plot into shared gardening space. Learn more and contribute here >>



My Brother's Keeper Action Plan needs engagement & feedback


The Action Plan is a statement of collective commitment to take responsible actions that will broaden life possibilities of boys and men of color. The City of Milwaukee wants everyone to engage in this plan.
Read it, share it, talk about it, and provide your thoughts!
Nonprofit takes ownership of Research Park Business Incubator
The new nonprofit group will seek government grants and other funds to improve the facility, meaning taxpayers are no longer responsible for maintenance costs associated with the building. Read more >>

UEDA Member Nonprofit Center of Milwaukee: May Calendar
NCM offers workshops, networking sessions, forums and special events for staff, board members and volunteers - anyone with an interest in improving personal skills and building the effectiveness of their nonprofit. View Calendar >>
National Small Business Week Webinars & Online Courses
May 1-7 is National Small Business Week! Newly announced webinars cover a variety of topics and the online course, Sales: A Guide for the Small Business Owner, will give you an overview of sales plans and other tools to get your product or service into your customer/consumer's hands. Calendar of webinars, classes and local and national events >>

3 Financial Documents You Need When Seeking Funding
This course is designed to provide a basic overview of loan packaging. It is a practical program with real-world examples and helpful tips.
Register here >>
---
African American Chamber of Wisconsin Breakfast of Champions
Tuesday, May 3 | 7am - Noon | Phister Hotel
This event will recognize strong supporters of diverse businesses and champions for economic development in the Greater Milwaukee area; this year, they will honor Cory Nettles of Generation Growth Capital. Details & Registration >>

Hmong Wisconsin Chamber of Commerce Annual Luncheon
Wednesday, May 4 | 11am - 1:30pm | Potawatomi Hotel & Casino
Help HWCC celebrate their 10th Anniversary! Hear from their founders, successful businesses and major partners. Details & Registration >>

LBWN Silver City Week
Thursday, May 5 through Saturday, May 14
LBWN along with Silver City neighbors and business owners invite you to celebrate community, diversity and opportunity in the Silver City Neighborhood all week long! Silver City neighborhood is known to be one of Milwaukee's best "InterNational" dining destinations! To check out all the activities and promotions during the week visit our Silver City Week webpage >>

Wisconsin LGBT Chamber Business Awards & Expo
Wednesday, May 18 | 5pm - 7:30 pm | Marcus Center for Performing Arts
Chamber members can register for an exhibitor table here and the public can register to attend here.

Wisconsin Veterans Chamber of Commerce Business Luncheon
Thursday, May 26 | 11:30am - 1pm | Milwaukee County War Memorial
Learn how the WVCC is assisting military veterans, veteran-owned and veteran-friendly businesses. Seating is limited. Details & Registration >>

Save the Date! Here We Grow Again Garden Party & Fundraiser
Saturday, June 11 | 1:00pm | Martin Luther King Peace Park
Show your support for Milwaukee families and HeartLove Place! Since 1989, HeartLove Place has served about 6,000 families a year and has impacted the lives of children and families daily.
Details & Registration >>

---
This bulletin is a service for our members. If you would like to know how you can become a UEDA Member, contact us at the phone number below or visit our website for details.
---
1915 N. Dr. Martin Luther King Jr. Drive, Milwaukee, WI 53212 * 414-562-9904 * www.UEDAWI.org