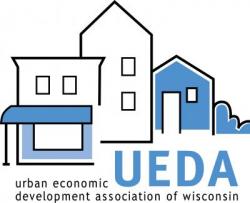 UEDA Community News - July 2015
This newsletter is sent to current members each month and features links to articles, upcoming events and activities of interest. We hope you find this membership service informative and useful!

If you have articles, announcements or a suggestion for a future newsletter, contact jessica@uedawi.org.
Have you heard the news? This week, UEDA's Board of Directors announced that longtime UEDA Deputy Director of Programs, Kristi Luzar, has been named the organization's new Executive Director. Kristi's commitment to UEDA is unparalleled and the Board unanimously agreed that she was the best person to build upon the successes achieved under Bill's leadership and drive UEDA's continued growth and community impact. Kristi has an exciting vision for UEDA. We look forward to sharing that vision with you at our Annual Gathering - network with other UEDA members, Board Members, Kristi and UEDA's Project Manger, Jessica Wetzel. Scroll down for more details!

Now's the time...renew your UEDA Membership! Invitations and renewals should be arriving in your mailbox shortly, but you can get a jump by renewing your membership online today. The UEDA Community Newsletter is just one of the many benefits you receive as a UEDA member - so don't hesitate to renew and miss out! Other benefits of membership include promotion of your events & activities, exclusive invitations to our Annual Community Gathering, quarterly meetings and the UEDA listserv. UEDA Members will also have special opportunities to join us Carnival Milwaukee - UEDA's annual (and very popular!) celebration of Milwaukee's diversity. Stay connected and grow your network of engaged individuals and organizations by remaining a member.
---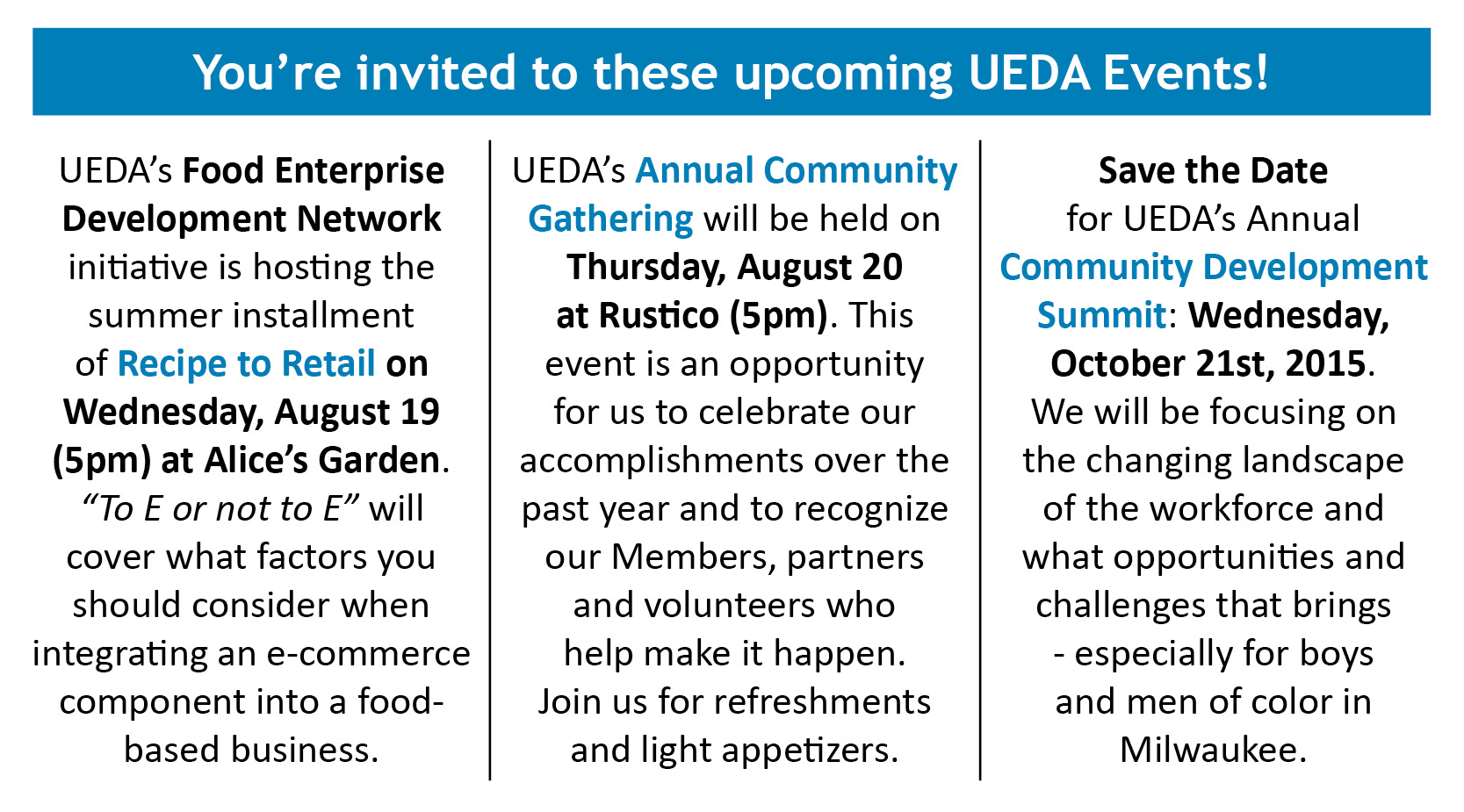 Visit the UEDA Events page for more information and event registration.
Carnival Milwaukee Partner Feature
Each month we feature restaurants or caterers who participated in this year's Carnival Milwaukee Food Tasting. They are locally owned and operated businesses that contribute to the local economy and vitality of our community. We encourage you to patronize and support them!

Colectivo Coffee
Over 10 Milwaukee area locations * www.colectivocoffee.com
Strength and quality have been trademarks of our company since we started in 1993. These principles drive our roasting operations, our cafes, and our bakery. With this in mind, we promote strong local communities, forge quality relationships with our growers and suppliers, and foster quality redevelopment of urban buildings.
Hazel Lee Cheesecakes
Phone: 414-202-6536 * heylee6126@sbcglobal.net
At Hazel Lee's we offer one-of-a-kind quality custom homemade cheesecakes. You can indulge yourself in a variety of delicious flavors to satisfy your constant craving for our decadent delights. Prepared with all natural and fresh ingredients, made-to-order in our commercial kitchen.
---
UEDA Member Milestones

Greater Milwaukee Foundation 2015 Vital Signs Report
The report's 74 indicators show that the area's prosperity depends on addressing the profound gap between white and minority well-being, and with that, the Greater Milwaukee Foundation plans to focus on promoting racial equity and inclusion across the area. Read more >>
New HUD rule on Fair Housing
The Metropolitan Milwaukee Fair Housing supports the US Department of Housing and Urban Development's new regulation on how local governments must work to dismantle residential segregation and support the development of healthy, inclusive communities. Read more >>
UEDA currently has TWO office spaces available for lease!
Located within a shared space; includes access to internet, conference room/meeting space, janitorial and other services. Reasonable rent rate; negotiable. Location: 2212 N. Martin Luther King Drive, Milwaukee. For information, call (414) 562-9904. Please forward to your networks!


City of Milwaukee Vacant Lot Challenge
The City is encouraging nonprofits and business leaders who have an interest in improving neighborhoods to partner with residents and submit their ideas for transforming vacant lots. The winning entry will receive a $10,000 reimbursable grant for project implementation! Applications should be submitted on or before Friday, August 14, 2015 by 4:00pm. View the brochure or visit www.milwaukee.gov/vlc for details.


New Guide Offers Financial Education to Immigrants
The CFPB has released The Newcomer's Guides to Managing Money to provide recent immigrants with straightforward information about basic money decisions. Download and share the guide (Spanish and English versions available) >>
BizTimes Seeks Nominations for Nonprofit Excellence Awards
BizTimes Media has opened the call for nominations for its second annual Nonprofit Excellence Awards program, which celebrates both the philanthropic accomplishments of area business leaders and nonprofits. Nominations can be completed online and are due by Monday, August 31.


Nonprofit Saves Antiques and Creates Jobs

Some of Milwaukee's doomed foreclosed properties contain materials worth saving. Recognizing the value of such items and knowing there is a market for them, the City of Milwaukee and the nonprofit firm WasteCap Resource Solutions are working together to extract them from condemned properties and then sell the recycled products to the public at a retail warehouse that WasteCap recently opened at 2123 W. Michigan Street.
Read more >>

Upcoming Training Events & Classes with UEDA Member, NPCM


Nonprofit Center of Milwaukee
August 13: Conflict Resolution and Mediation
Examine how the creation and impact of mediation programs empower residents to work together to effectively improve neighborhoods.
Details & Registration >>
Grow with Scale Up, Milwaukee's Scalerator and help grow your business. Scalerator works well for those business entrepreneurs who have a strong ambition to grow and are open to learning new ways to do that. It is an intense 6 month training program for business owners and key team members who are active managers and includes 7 workshops, mentoring and more. Space is limited and at most 20 applicants will be accepted for Scalerator 2015. To learn more about the Scalerator or to apply, click here.

Or, stop by the Scale Up Milwaukee Open House on Wednesday, August 5 from 12pm-3pm. The Scale Up Milwaukee team will be available to answer questions about the Scalerator and the application. Visit the team and have all your questions answered. Held at the WWBIC, 1533 North Rivercenter Dr, Milwaukee, WI 53212.

6 Steps to Small Business Success
Join WWBIC on Wednesday, August 12 (6pm-8pm) for this advanced business coaching class that offers a series of simple, but proven steps that business owners can take as they work to convert their dreams into reality. View registration details.

Calling all Food Entrepreneurs!
The Edible Startup Summit will be held Monday, August 24 through Wednesday, August 26 | Goodman Community Center (Madison). The Edible Startup Conference is a three day conference to provide you with the knowledge and connections to help launch a food business. Hear from successful food entrepreneurs, connect with industry, government, and nonprofit resources.
Details & Registration >>

Upcoming Training Events & Classes with UEDA Members


Wisconsin Women's Business Initiative Corporation (WWBIC)
View the Fall 2015 Milwaukee office and Online schedule for a list of all upcoming free and low-cost classes. Register online or call your local WWBIC office register via telephone.

UWM Small Business Development Center
The SBDC provides a variety of training sessions and educational resources that can help you start a successful business.
View opportunities here >>
---
Bronzville Week
August 1 through 8 | Bronzville Neighborhood
Hosted by Alderwoman Milele A. Coggs, Bronzeville Week returns to celebrate the past, present and future of key Milwaukee district.Download the program booklet for a detailed list of daily events.
HCCW Fiesta Tailgate
Saturday, August 8 | 3pm - 5:45pm | Miller Park
Held in conjunction with the Milwaukee Brewers Baseball Club's "Cerveceros (Brewers) Day… A Tribute to Hispanic Baseball," Fiesta Tailgate is a lively event filled with authentic Hispanic foods, live music and activities designed for the whole family to enjoy. Details & Tickets >>
Gateway Days
Wednesday, August 19 | 11am to 1pm | Garden District Farmers' Market Lot (6th & Norwich)
Join The Gateway to Milwaukee for an afternoon of networking, food and good company.
Download flyer >>
13th Annual Guest House Open
Monday, August 24 | Registration at 10:30am | North Shore Country Club
The event includes lunch, 18 holes of golf, dinner, evening entertainment, 50/50 raffle, and silent and live auctions, all in supporting the mission of the Guest House of Milwaukee. Details & Registration >>

---
This bulletin is a service for our members. If you would like to know how you can become a UEDA Member, contact us at the phone number below or visit our website for details.
---
2212 N. Dr. Martin Luther King Jr. Drive, Milwaukee, WI 53212 * 414-562-9904 * www.UEDAWI.org