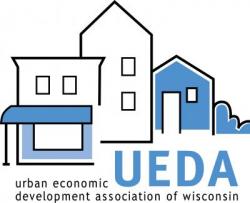 UEDA Community News - June 2016
This newsletter is sent to current members each month and features links to articles, upcoming events and activities of interest. We hope you find this membership service informative and useful!
If you have articles, announcements or a suggestion for a future newsletter, contact jessica@uedawi.org.
Welcome to these New & Returning Members!
Kalan R. Haywood, Sr. (Vangard Group, LLC), Thomas Frenn, Lynnea Katz-Petted (Rebuilding Together Greater Milwaukee), The Milwaukee Urban League, Guest House of Milwaukee, Northwest Side Community Development Corporation, Lenor Rosas (UMOS), Near West Side Partners, Wisconsin Partnership for Housing Development, Southeastern Wisconsin Regional Planning Commission, Milwaukee Job Corps, YWCA Southeast Wisconsin, Granville Business Improvement District, Milwaukee Public Schools, and Community First.
---
Now's the time... to renew your UEDA Membership!
Invitations to renew were sent out via mail in mid-May.

The UEDA Community Newsletter is just one of the many benefits you receive as a member.
Other UEDA Membership benefits include registration discounts to our
Community Development Summit, an invitation to join us at our Annual Member Gathering,
access to the UEDA listserv, as well as discounts and advanced registration to our
annual fundraising event, Carnival Milwaukee. Plus, we work to highlight and promote the activities, achievements and events of our members through this newsletter and social media.

If you have not already renewed, this newsletter will be your last as a current member.

We look forward to serving you throughout the next year.
Renew via mail or online today!
---
Carnival Milwaukee Partner Feature
Each month we feature restaurants, caterers or vendors who participated in this year's Carnival Milwaukee Food Tasting. They are locally owned and operated businesses that contribute to the local economy and vitality of our community. We encourage you to patronize and support them!

Colectivo Coffee
Over 10 Milwaukee area locations * www.colectivocoffee.com
Strength and quality have been trademarks of our company since we started in 1993. These principles drive our roasting operations, our cafes, and our bakery. With this in mind, we promote strong local communities, forge quality relationships with our growers and suppliers, and foster quality redevelopment of urban buildings. But it all starts with exceptional coffee...

Daddy's Soul Food & Grille
754 N. 27th Street, Milwaukee, WI 53208 * Phone: 303-732-3397
Soul food buffet, made to order grill, and desserts! Vegetarian? Relax, we got you too! Come and eat like you're at home!
---
UEDA Member Milestones

Tim Syth (Lush Production) will be partnering with Milwaukee developer Julie Kaufmann to renovate a 100-year-old building along National Ave. in Silver City into an incubator space for professionals working in the neighborhood. Learn more about 5 Wise Workshop Development here >>

Milwaukee Public Schools announced that two new elementary school's will join the district's roster of community schools, which use a model of shared leadership, high-quality and culturally relevant instruction, wraparound services, community engagement and restorative discipline. Read more >>

The Small Business Administration Wisconsin office has signed Strategic Alliance Memoranda with both the Hmong Wisconsin Chamber of Commerce and the Wisconsin LGBT Chamber of Commerce to formalize support and acknowledge a continued effort to advance opportunities among Wisconsin's Hmong, Southeast Asian and LGBT businesses. Read the Press Release >>

Congratulations to BMO Harris Bank for being named the Wisconsin LGBT Chamber's 2016 Corporate Partner of the Year!

The Northside Housing Initiative, a collaboration among the City of Milwaukee, the Wisconsin Housing and Economic Development Authority (WHEDA) and real estate developer Gorman & Co, was honored with a Public Policy Forum Salute to Local Government Award for turning city-owned blighted properties into a new real estate and employment opportunities. Read more >>
Gateway to Milwaukee Workshop: Multiply Your Event Success
Join Gateway to Milwaukee and ActionCOACH Business Coaching, to learn what needs to happen before and after an event you participate in to ensure success. Learn more >>

15 Things Every Business Owner Should Know
From cash-flow to business culture, there are a handful of strategies that, when understood, can help boost sales as well as overall customer and employee satisfaction. Read more >>
---
A Home for Everyone Conference
July 13-16 | Appleton, Wisconsin (Radisson Paper Valley)
The Wisconsin Collaborative for Affordable Housing hosts this annual conference to promote access to decent, safe and affordable housing for economically disadvantaged households. View the conference website for a listing of speakers, workshop topics and to register.

Taste of the Gateway
Wednesday, July 20 | 5pm to 7pm | Garden District Farmers Market (6th & Howard)
Join The Gateway to Milwaukee for an evening of great food and fun! Taste signature dishes from local Gateway-area restaurants and enjoy live entertainment! More Information >>

Multicultural Entrepreneurial Institute 10th Anniversary
Friday, July 29 | 5pm to 9pm | Tripoli Shrine Center
The Multicultural Entrepreneurial Institute was established in 2006 with the mission of assisting entrepreneurs with their business ownership dreams. During the past decade MEI has helped 2768 individuals start or grow their enterprise with a 95% business establishment rate. Help them celebrate!
Details & Registration >>
4th Annual Bronzeville Week | August 6-13, 2016
Culture, history, art, commerce, community and culture rooted in a rich urban tradition will be celebrated August 6-13, 2016 when the 4th annual Bronzeville Week is held in Milwaukee. Hosted by Alderwoman Milele A. Coggs and Friends of Bronzeville. The Bronzeville Cultural and Arts Festival will be held on August 6, 2016 from 10am to 6pm. More Information >>
---
This bulletin is a service for our members. If you would like to know how you can become a UEDA Member, contact us at the phone number below or visit our website for details.
---
1915 N. Dr. Martin Luther King Jr. Drive, Milwaukee, WI 53212 * 414-562-9904 * www.UEDAWI.org