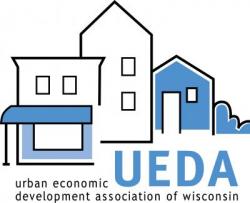 UEDA Community News - May 2016
This newsletter is sent to current members each month and features links to articles, upcoming events and activities of interest. We hope you find this membership service informative and useful!
If you have articles, announcements or a suggestion for a future newsletter, contact jessica@uedawi.org.
Welcome to these New & Returning Members!
WasteCap Resource Solutions
---
Now's the time... to renew your UEDA Membership!
Invitations and renewal letters will be sent out this moth, but you can get a jump by
RENEWING YOUR MEMBERSHIP ONLINE TODAY

Don't hesitate to continue receiving this informative newsletter right to your inbox each month!
Other benefits you receive as a UEDA Member include registration discounts to our
Community Development Summit, an invitation to join us at our Annual Member Gathering,
access to the UEDA listserv, discounts and advanced registration to our
annual fundraising event, Carnival Milwaukee... plus much more!

To review the UEDA's work over the last year, we invite you to take a look at our
2015 Impact Report.
---
Carnival Milwaukee Partner Feature
Each month we feature restaurants, caterers or vendors who participated in this year's Carnival Milwaukee Food Tasting. They are locally owned and operated businesses that contribute to the local economy and vitality of our community. We encourage you to patronize and support them!
Cempazuchi Comida Brava
1205 E. Brady Street, Milwaukee, WI 53202 * Phone: 414-291-5233 * www.cempazuchi.com
Cempazuchi combines regional art and authentic food for a true Mexican experience. The menu embraces regional specialties, while offering common choices like tacos and quesadillas with an attention to traditional ingredients and preparations. Daily changing margaritas, moles from Oaxaca, corn masa cakes and two style of tamales replicate Mexican tradition.

China Gourmet
117 E. Wells Street, Milwaukee, WI 53202 * Phone: 414-272-1688 * www.china-gourmet.com
Serving daily lunch buffet, Sunday Brunch, Weekend Dinner Buffet, Dine In, Carry Out, and Delivery.
---
UEDA Member Milestones

Congratulations to the Harbor District, Inc. and the City of Milwaukee Environmental Collaboration Office for being named among the eight recipients of the Bloomberg Award for Partners for Places Grant Program! A $75,000 grant will be used to engage residents near the Harbor District and make physical improvements to improve public access to the waterfront. Read more >>

The YWCA Southeast Wisconsin recently announced that preliminary result are in from their Community Readiness Assessment on Milwaukee Employment Issues. Core questions in the assessment examined the readiness of local employers to hire people with irregular work histories or limited soft skills. Look for more details in the coming months. In the meantime, learn more about their assessment here and about their campaign for a more just and equitable Milwaukee on the 2038 Racial Justice Blog.

In addition to taking over the Lincoln Opportunity Fund portfolio of loans, WWBIC is set to receive over $1 million in grants and investment from Wells Fargo to expand access to capital, as well as business training and technical assistance to small businesses in Milwaukee. Read more >>

A new video from Layton Boulevard West Neighbors titled "Making Connections for a Strong Neighborhood" features neighbors and business owners expressing, through their own words, how LBWN has connected them to their neighbors and local business owners, strengthening Silver City, Burnham Park and Layton Park neighborhoods along the way. View here >>
In case you missed it.... UEDA moved offices!
In April, UEDA moved its offices to a suite located in the YWCA Southeast Wisconsin building. Our new address is 1915 N. Dr. Martin Luther King Jr. Drive, Suite 260, Milwaukee, WI 53212. Our phone number remains the same, so please update your contact information accordingly. We are excited to be sharing space with longtime Member and partner, YWCA!

News for Bronzeville Cultural & Entertainment District
The Historic Garfield Redevelopment Phase 1 is one of 28 projects statewide to receive low-income housing tax credits from the Wisconsin Housing and Economic Development Authority (WHEDA). A new building to be constructed at the corner of North Avenue and Fourth Street will house America's Black Holocaust Museum, which would be a centerpiece and the key attraction in the redevelopment zone. Read more >>

New Milwaukee TechForce Training Center
Formerly the St. Francis Social Center, the new job training center is the result of a partnership that includes the City of Milwaukee Housing Authority, Adult Learning Center, Milwaukee Area Technical College, Employ Milwaukee, Milwaukee Public Schools and St. Francis parish. The goal is to train 150 people at the center and place them in technology jobs by next year. Read more >>

Milwaukee Streetcar Extension
The City has applied for a federal grant to cover a line extension that would better connect the north side of Milwaukee to the new Bucks arena and other downtown amenities. If successful in raising the money, the extension could be open by the spring or summer of 2020.
Read more >>

CFPB Unveils Student Loan 'Payback Playbook'
The Payback Playbook is a set of prototype disclosures that outline a path to affordable payments, for borrowers trying to avoid student debt distress, by providing personalized information about repayment options.
Read more and review the Payback Playbook >>

Strategic Planning for Nonprofit Organizations
Strategy empowers an organization to focus on their core mission and avoid potential distractions. Cathedral Consulting Group, LLC's Topic of the Month outlines the purpose, use, contents, creation, and review of a nonprofit strategic plan. View here >>

UEDA Member Nonprofit Center of Milwaukee: SUMMER Calendar
NCM offers workshops, networking sessions, forums and special events for staff, board members and volunteers - anyone with an interest in improving personal skills and building the effectiveness of their nonprofit. View Summer 2106 Calendar >>
Rev-Up MKE Small Business Competition
Put on by the Near West Side Partners, this new competition will provide an opportunity for start-up entrepreneurs to expand or start a business and get the support needed to make it successful! Finalists will receive hands-on business training, technical assistance and mentorship from a number of organizations in Milwaukee including WWBIC, BizStarts and the Marquette Law and Entrepreneurship Clinic. Applications are due June 28th. More information >>

Grow Your Business This Summer
Whether it's a busy or quiet time for your business, here are some things you can do to take advantage of the summer months!
Read tips from the SBA >>
---
Business Leaders Breakfast
Thursday, June 2 | 7:30am to 9am | Stone Cellar at Riverview Gardens
Join the Wisconsin LGBT Chamber as they kick off Pride Month and host Mark Burstein, Lawrence University President as the breakfast's keynote speaker. Details & Registration >>

Here We Grow Again Garden Party & Fundraiser
Saturday, June 11 | 1:00pm | Martin Luther King Peace Park
Show your support for Milwaukee families and HeartLove Place! Since 1989, HeartLove Place has served about 6,000 families a year and has impacted the lives of children and families daily.
Details & Registration >>

Water Summit 2016
June 14 & 15 | The Pfister Hotel
The Water Council's annual Water Summit strives to create a channel for water professionals to share ideas, provide unique networking opportunities, discuss vital current global water issues and advance innovative solutions - shaping the future of water technology and our world's water crisis.
Details & Registration >>

Women of Influence Luncheon
Friday, June 17 | 11am to 1:45pm | Wisconsin Center
The Milwaukee Business Journal will proudly honor outstanding women in business and the community. Register today and join them in recognizing the 2016 Women of Influence. Details & Registration >>
---
This bulletin is a service for our members. If you would like to know how you can become a UEDA Member, contact us at the phone number below or visit our website for details.
---
1915 N. Dr. Martin Luther King Jr. Drive, Milwaukee, WI 53212 * 414-562-9904 * www.UEDAWI.org