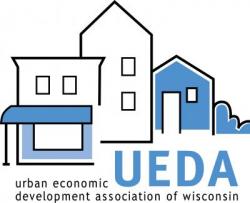 UEDA Community News - October 2016
This newsletter is sent to current members each month and features links to articles, upcoming events and activities of interest. We hope you find this membership service informative and useful!
If you have articles, announcements or a suggestion for a future newsletter, contact jessica@uedawi.org.
Welcome to these New & Returning Members!
Sara Daleiden (MKE-->LAX), Milwaukee Habitat for Humanity, Carol Maria (FDIC)

UEDA Welcomes Public Ally
On October 31, Katrina Hunt started her tenure as a UEDA Public Ally/Americorps intern and will be with us through the end of August 2017. Katrina brings with her skills in communication, creativity and art, and an interest in social justice, community development and youth issues.
She will be working with us on projects such as Take Root Milwaukee, the Food Enterprise Development Network, and new activities in the Bronzeville District. We are excited to welcome her to the UEDA Community, so when you see her, please introduce yourself!
---
Carnival Milwaukee Partner Feature
Each month we feature restaurants, caterers or vendors who participated in this year's Carnival Milwaukee Food Tasting. They are locally owned and operated businesses that contribute to the local economy and vitality of our community. We encourage you to patronize and support them!

Lisa Kaye Catering
Phone: 414-745-5586 * www.lisakayecatering.com * Chef@LisaKayeCatering.com
Since 2007, Lisa Kaye Catering, LLC has been offering customers high quality, affordable catering in the Midwest for off-site events. Our staff will work with you no matter where your event is located to ensure that you have a great catering experience. Our knowledgeable event coordinators will make sure that every detail of our catering goes smoothly and that you receive the level of service you deserve. This is our promise to you!

Martha's Pimento Cheese
www.marthaspimentocheese.com
Martha's Pimento Cheese offers a taste of three varieties of handcrafted artisan pimento cheese, made in Milwaukee: Mild, Jalapeño, & Chile de Árbol. Wisconsin Artisan Cheese + Authentic Southern Taste = A Taste of the South in the Midwest. Taste and see what makes pimento cheese a classic Southern staple for breakfast, lunch, dinner and everything in between.

Pepper Pot Catering
4120 W. Capitol Drive, Milwaukee * Phone: 414-628-7032
Pepper Pot Catering is a professional food service that specializes in weddings, social events, and corporate events where high standards are required. Dwight is a native Jamaican who has cultivated the art of Caribbean cuisine through family recipes that have been passed down through the generations.

Taste and More by Renee
Phone: (414) 687-1008 * Email: tasteandtell@outlook.com
Taste and More by Renee specializes in southern cuisine and delicious homemade desserts. Catering for small events is also available.

Terri Lynn's Express
10742 W. Hampton Avenue * Phone: 414-464-1111
Southern cuisine in a supper club setting.

---
UEDA Member Milestones

The WI Veterans Chamber of Commerce is helping launch MkeVeteransWeek.org - a platform that will highlight events, promotions, discounts and more happening in and around Milwaukee leading up to Veterans Day 2016.

May yer Thao, Executive Director of the Hmong Chamber of Commerce of Wisconsin, will be honored as Nonprofit Advocate of the Year by The Latino Entrepreneurial Network of Southeast Wisconsin at their 11th Annual Exito Awards, which will take place on November 12. Congrats!

The Northwest Side Community Development Corporation was recently awarded a grant of $600,000 from the U.S. Department of Health and Human Services - Office of Community Services for a business expansion project that will create 30 new jobs, 75% of which will be filled by low-income job-seekers.

The Southeastern WI Regional Planning Commission (SEWRPC) is seeking community input on their Transportation Improvement Program (TIP) and Public Participation Plan through November 10, 2016. The TIP is a listing of all arterial highway, public transit, and other transportation improvement projects proposed to be carried out by State and local governments over the next four years in the Southeastern Wisconsin Region. Review and submit comments on the TIP here.
MARKETPLACE Conference Scheduled for December 13-14


Marketplace is the premier event for minority, woman and veteran-owned businesses to network, connect with funding and assistance resources, promote their businesses to buyers in one-on-one meetings at the conference and meet the agencies providing business certifications.
We are excited to extend a special discount on registration to UEDA Members. Just enter 'UEDA' at checkout for $10 off! Early-bird registration expires on November 14th. Details & Registration >>

Milwaukee Receives Grant to Study Streetcar Extension


The $750,000 grant from the US Department of Transportation will be used to search for developments opportunities around the north (Bronzeville) and south (3rd Ward/Walker's Point) ends of the extensions. Read more >>

Dignity Capacity Building Workshop Intensive
This four-session training, offered by the Nonprofit Center of Milwaukee, coaches nonprofit leaders to look at dignity within their organizations, gain an understanding about how dignity relates to their work to address equity in their communities, and to improve their capacity to do their work with dignity. Attend this training series (taking place throughout the month of November) to learn important techniques for creating better outcomes for boys and men of color and others who are stereotyped and marginalized. Details & Registration >> New United Way Position to Focus on Boys and Men of Color

The position, Director of Innovative Strategies for Boys and Men of Color, will be filled by current United Way Portfolio Manager, Shannon Reed who aims to purposefully and collaboratively address some of the most critical issues facing Milwaukee's boys and men of color.

Read more >> First Stage Presents 'Welcome to Bronzeville'
Written and directed by local playwright, Sheri Williams Pannell, with input from Bronzeville community elders, Welcome to Bronzeville takes viewers back to 1957 for a peek into this historic and revered community. Tickets are on sale now and the play will run from January, 13 through February, 5. More information and a performance schedule can be found on the FirstStage website.

New Urban Agenda Adopted at Habitat III Conference
The New Urban Agenda is an action-oriented document that aims to make cities more inclusive by recognizing everyone can benefit from urbanization, particularly when attention is paid to those in those in vulnerable situations. Learn more >>
FREE Small Business Academy
This is a FREE, half-day program held in conjunction with Marketplace that is focused on providing start-up and small businesses an opportunity to make connections with financial and technical resource providers, learn ways to grow their businesses, and network with other businesses to share best practices. Details & Registration >>

New City of Milwaukee Licensing & Permitting Tool
Created as part of the City's Red Tape Rescue Program, StartSmart is an online tool that tells entrepreneurs what City and State permits and licenses are needed to open a business in Milwaukee. Access here >>

Scale Up Milwaukee Launches Fourth Scalerator Class


12 diverse companies that manufacture a wide range of products and offer services have embarked on a six-month, seven-session training program that will teach business owners practical skills to inject growth into their ventures.

Learn more and view the companies here >>

---
Milwaukee Startup Week 2016
November 1-6 | Various Locations
The series is meant to connect entrepreneurs, investors and local leaders and educate them on what their peers are up to in the area. More than 20 events are scheduled at various locations around the Milwaukee area and each will touch on one of six themes relevant to entrepreneurship and start-up businesses. View calendar of events >>

Webinar: What the Healthcare Law Means for Your Small Business
November 10 | December 8 | December 22
Find out how to navigate the opportunities in health care through the Affordable Care Act 101 webinar series. Registration is free (but required). Register to one of the following dates >> November 10, December 8, or December 22.

8th Annual Night by the River Benefit
November 12th | 6pm-9pm | Zimmerman Architectural Studios
Join ArtWorks for Milwaukee and enjoy a sampling of craft beers, fine wines, delicious cocktails and hors d'oeuvres from local establishments, as well as a raffle, silent auction, and live auction with a wide variety of goods and services generously donated from local businesses. Purchase Tickets >>

Marquette University Community Engagement Symposium
November 15 | 8am-4pm | Alumni Memorial Union
The symposium will promote engaged research and scholarship to confront issues of social justice, as well as illuminate best practices in cultivating deep partnerships, community-based research and community-based learning pedagogies. Details & Registration >>

2016 WWBIC Luncheon: Food for Thought
December 2 | 11am-2pm | Potawatomi Hotel & Casino
This year, WWBIC will celebrate one of the market segments they serve, the food and beverage industry. Keynote speaker, Sandy D'Amato, is a local and national award-winning chef and creative life long sustainable entrepreneur. Purchase Tickets >>

City of Milwaukee Pivot Program
December 6 | 2pm-5pm | Gerald L. Ignace Indian Health Center
Are you trying to start a new business? Have you been trying to make sense of regulations relating to an existing business? The Licensed Premises Pivot Program can help you cut through the red tape and get your business operating successfully. Download Flyer >>

Milwaukee Urban League Equal Opportunity Day Luncheon
December 7 | 11:30am-1:30pm | The Pfister Hotel
This annual event reinforces the importance of diversity, inclusion and equal opportunity; this year the Milwaukee Urban League will also recognize four individuals, Cory Nettles (Generation Growth Capital), Thelma Sias (We Energies), Tom Capp (Gorman) and Larry Waters (MillerCoors), who have been instrumental in supporting the organization during the tenure of President & CEO Ralph Hollman, who will retire at the end of this year. For ticket and sponsorship information contact Tresa Malone at 414-374-5850 ext. 121 or tmalone@tmul.org.
---
This bulletin is a service for our members. If you would like to know how you can become a UEDA Member, contact us at the phone number below or visit our website for details.
---
1915 N. Dr. Martin Luther King Jr. Drive, Milwaukee, WI 53212 * 414-562-9904 * www.UEDAWI.org